There are so many new stamps coming from my favorite companies! (Insert image of me doing a little happy dance right here!)
Paper Salon is coming out with a new stamps - they can be seen
HERE!
I can NOT wait to get Eclectic Medley! I have been itching for a crown stamp and this one is just perfect! Very exciting!
The other new releases I'm excited about are the stamps from
PaperTrey Ink.
If you're still thinking about holiday cards, looking at these may be just the right inspiration!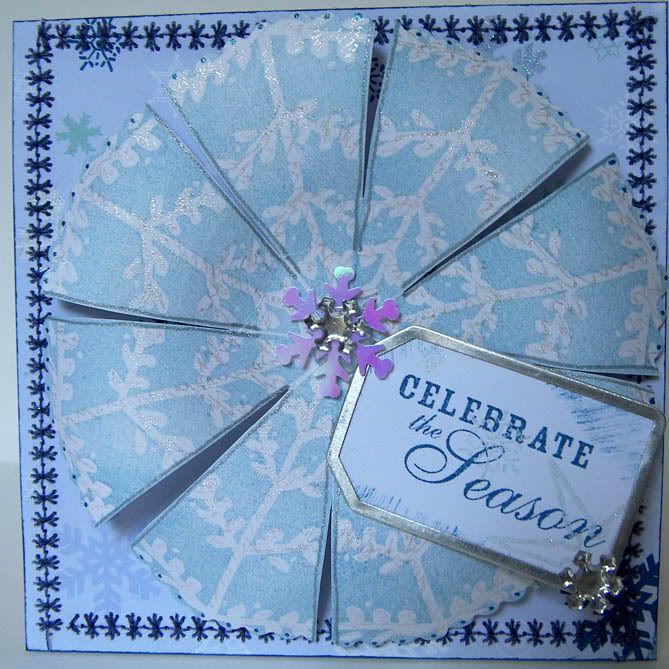 This is a holiday card I was playing around with recently. It is 5" square with lots of Paper Salon products; the background is Snow Days paper. The large center snowflake is stamped with the large tree from the Peace On Earth set - the top of the tree is toward the center and repeated in a circle! I used Sky ink, trimmed the edges with small scallop scissors and highlighted it with a Sakura glitter pen. The tag is done with the Making Memories tag maker and the snowflake embellishments are from Creative Charms. The stitching was done on my sewing machine.
I've finalized the design for my family's holiday cards and all I need now is for my
stamps
to arrive! (And that should be tomorrow! ;) I've embossed all my card fronts with my Nestabilities, printed all my cards with an interior sentiment, signed them, so all that remains is to stamp and color. Which is perfect busy work for this soccer/hockey mom! I'll post them once they're finished.
Be well! ~ Jenn