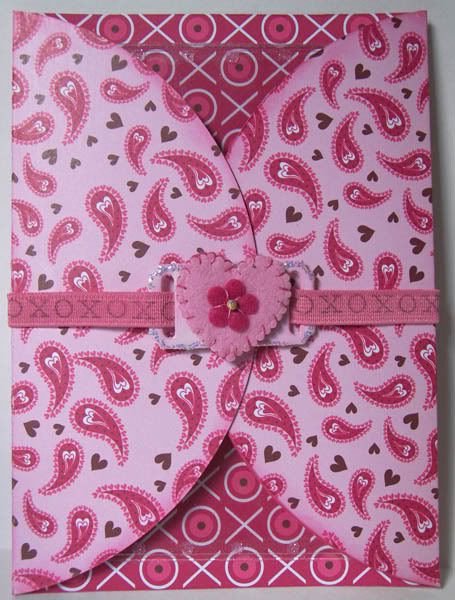 I made this gift card holder a little while back; it was not picked up by the magazine that I made it for, so I thought I would share it here so you can get a jumpstart on Valentines gifts. This is made from all Paper Salon - Smitten papers, Scrap-Elastic (such versatile stuff!), chipboard, ink, and a folio (ok, technically, it is half a folio). I have to mention that Scrap-Elastic and the folios are such incredibly cool products. There is really so much that you can do with them.
So, this card is a center foldout, A7-sized. This is from a big, commercial-sized Accucut die, so you can check your local scrapbook/stamp store to see if they have this die or not. If not, I think it could be easily replicated (I'm a big proponent of using your kitchen plates for big circles!). I actually cut it twice, with the two patterned papers that I wanted to use. I adhered them to each other using my Xyron machine. I then cut a PS Folio in half, and stitched down the middle, creating two pockets. I ran the stitched folio through my Xyron and adhered it to the inside of the card - since the adhesive coverage is uniform, it is your best bet for adhering the clear folio. The two sections can then hold two gift cards.
I embellished the chipboard buckle and to close it all up, I stamped on a length of Scrap-Elastic, sliding and adhering the ends behind the chipboard buckle.
In the grand scheme of things, this is a REALLY simple project that has that big "oomph". I hope it inspires you to come up with a fun gift card holder of your own!
I'm heading out to AZ in the morning to attend my training with the new team at Spellbinders. I'm really looking forward to it, and I'm sure I will have lots to chat about next week. Until then, be well! ~ Jenn